Preset gift jewelry collection
First Page Gift Box Set
Gift set jewelry will be delivered in a distinctive First Page gift set:
Gift message printed on vellum paper
a laminated rigid box with a suede leather pouch with lots of love and big hugs.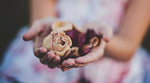 Share the LOVE
Our mission is "Sharing love"
There are many ways to express and share your love to yourself or who you love and care. Giving gift is definitely one of them. We wish our collection can bring you the most memorable moment in your life.
Love yourself and love the others and make your love exceptional and everlasting like Selene and Endymion.
Gold Vermeil Jewelry
Gold vermeil is one of the hottest luxury jewelry trend.
Gold vermeil is composed of a thick layer of gold over solid sterling silver, which means it is made entirely of precious metals. The thickness of the gold portion is what really sets vermeil jewelry apart from simple gold plated jewelry. Vermeil is more hypoallergenic and has a thicker layer of gold than normal gold plating. Gold vermeil is a high-quality jewelry without the pure gold price tag.
check more Gold Vermeil Jewelry